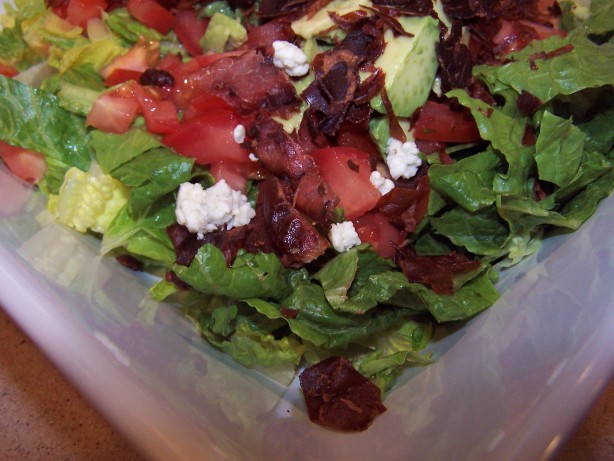 *Adapted from
Food.com
.
Prep: 30 minutes
Serves: 6
INGREDIENTS
1/2 head iceberg lettuce, in 1/2" dice
1 head romaine lettuce, in 1/2" dice
2 plum tomatoes, in 1/2" dice
1/2 cup danish blue cheese, crumbled
1/2 cup prosciutto, pan fried until crispy and chopped
1 avocado, small dice
Italian dressing: (makes approx. 2 cups)
1 1/2 tsp dijon mustard
1 Tbsp granulated sugar
1/4 cup water
1 1/2 tsp garlic, finely minced
1 Tbsp red wine vinegar
1/4 cup white vinegar
salt, to taste
3/4 cup canola oil
1/2 cup virgin olive oil
1/2 tsp crushed red pepper flakes (optional)
1/2 tsp pepper, freshly ground
1/4 tsp fresh oregano (or 3/4 tsp dried oregano)
1/2 cup Parmesan cheese, grated
DIRECTIONS
1. Combine mustard, sugar, water, garlic, red and white vinegar and salt in food processor. Mix until smooth. Slowly drizzle in the oils, continue to blend. Add remaining ingredients and blend until well mixed. Recipe can be doubled with remaining stored in sealed container in refrigerator for up to a week.
2. Place lettuce in large mixing bowl. Add all the ingredients except garnish and mix well. Add dressing and mix well.
3. Serve, topping each portion with garnish.
Optional: Add grilled chicken for an entree salad.