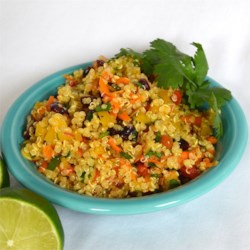 *From allrecipes.com
here
.
Serves: 6
Prep: 45 minutes
INGREDIENTS
1 1/2 cups water
1 cup uncooked quinoa, rinsed
1/4 cup red bell pepper, finely chopped
1/4 cup yellow bell pepper, finely chopped
1 small red onion, finely chopped
1 1/2 tsp curry powder
1/4 cup chopped fresh cilantro
1 lime, juiced
1/4 cup toasted sliced almonds
1/4 cup minced carrots
1/2 cup dried cranberries
salt & pepper to taste
DIRECTIONS
Pour the water into a saucepan; cover and bring to a boil over high heat. Then pour in quinoa, cover and reduce heat to low. Simmer until the water has been absorbed, 15-20 minutes.
(To serve cold) Scrape into a mixing bowl and chill in the refrigerator until cold. Once cold, add all additional ingredients and mix thoroughly. Chill again before serving.
(To serve hot) Add all additional ingredients to the pot and mix well. Heat on low and stir often until all ingredients are hot.
This could be served alongside an entree or as a main dish.