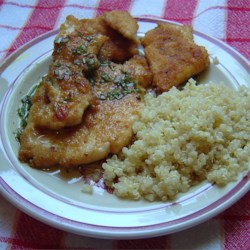 *From allrecipes.com
here
.
INGREDIENTS
4 boneless, skinless chicken breast halves - pounded to 1/4 inch thickness
1 egg, beaten
2/3 cup dry bread crumbs
2 Tbsp olive oil
1 lime, juiced
6 Tbsp butter
1 tsp minced fresh chives
1/2 tsp dried dill weeds
DIRECTIONS
1. Coat chicken breasts with egg, and dip in bread crumbs. Place on a wire rack and allow to dry for 10 minutes.
2. Heat oil in large skillet over medium heat. Place chicken into the skillet, and fry to 3 to 5 minutes on each side. Remove to a platter, and keep warm.
3. Drain grease from the skillet, and squeeze in lime juice. Cook over low heat until it boils. Add butter, and stir until melted. Season with chives and dill. Spoon sauce over chicken, and serve immediately.