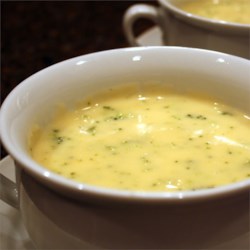 *Adapted from
this
allrecipes.com recipe.
Serves: 6
Prep: 40 minutes
INGREDIENTS
1/4 cup butter
1/2 onion, chopped
1 carrot, diced
16 oz pkg frozen broccoli, thawed and chopped
2 (14 oz) cans chicken broth
1/2 Velveeta cheese loaf, cubed
1 cup milk
1 tsp garlic powder
1/4 cup cornstarch
DIRECTIONS
1. In a stockpot, saute onion and carrot in butter until softened, about 5 minutes.
2. Add broccoli and 1 1/2 cans of chicken broth. Simmer until broccoli is tender, about 10 minutes.
3. Reduce heat to low, stir in cheese cubes until melted. Mix in milk and garlic powder.
4. Add cornstarch to 1/2 can of broth, stir until combined and then add mixture to soup. Raise heat to medium and cook, stirring frequently until soup thickens. (Reduce heat immediately if cheese begins to stick to the bottom of the pot.)
Notes: You can use an immersion blender before adding the cheese if you prefer your soup to be smoother. I like broccoli cheese soup to have larger pieces of veggies, so I finely chopped half of the broccoli and coarsely chopped the other half for variety. You could also use vegetable stock if you want this to be vegetarian.