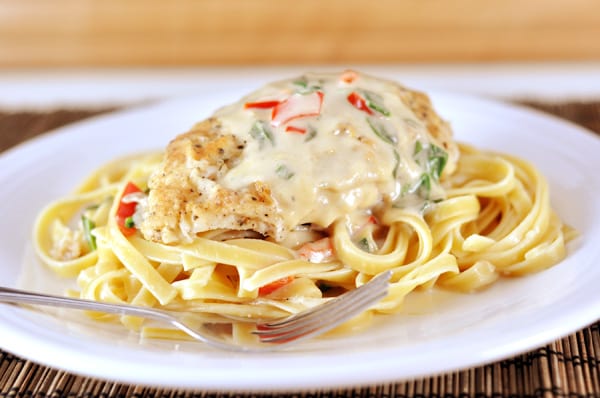 *Adapted from
Tuscan Garlic Chicken
on Mel's Kitchen Cafe.
Serves: 4
Prep: 45 minutes
INGREDIENTS
1/2 cup all-purpose flour
1 1/2 tsp salt
1 tsp pepper
1 tsp dried basil
1 tsp dried oregano
1/4 cup grated Parmesan cheese
4 boneless, skinless chicken breasts, halved into cutlets
5 Tbsp olive oil, divided
1 pound pasta (fettuccini, farfalle, or penne)
1 Tbsp finely minced garlic (about 4-5 cloves)
1/2 cup chicken broth
1 cup heavy cream
2 Tbsp cornstarch
1 cup milk
can diced tomatoes, drained
6 oz fresh spinach, chopped
salt & pepper, to taste
freshly grated Parmesan cheese
DIRECTIONS
1. Preheat oven to 350 degrees. In a shallow dish, combine the flour, salt, pepper, basil, oregano, and Parmesan. Dip each chicken piece in the flour mixture until both sides are well coated. Reserve flour mixture.
2. In a large nonstick skillet, heat 3 Tbsp of the olive oil over medium high heat until the oil is hot and shimmering. Place the chicken breasts in the pan, working in batches if needed. Cook for 2-3 minutes on each side, until they are golden and browned but not cooked all the way through.
3. Remove chicken to a foil-lined, lightly greased baking sheet and bake in the preheated oven for about 15 minutes, until the chicken is cooked through. Set aside and tent with foil until ready to use.
4. While the chicken is cooking, heat a large pot of water to a boil and add the noodles, cooking until al dente. Also, wipe out the skillet with a couple paper towels and return it to medium heat, adding the remaining 2 Tbsp olive oil. When the oil is hot, add the garlic, sautéing for 2-3 minutes.
5. In a small liquid measure, whisk together the cornstarch and cream.
6. To the skillet, add in 2 Tbsp of the flour mixture and stir constantly with a wooden spoon for another minute. Add the chicken broth to the skillet and bring the mixture to a low simmer, whisking constantly, until slightly thickened, about 3-4 minutes.
7. Add the cream mixture and milk to the skillet. Bring the mixture to a simmer and cook, stirring occasionally, until sauce is thickened.
8. Add the spinach and tomatoes and cook 2-4 minutes or until spinach is wilted. Salt and pepper to taste.
9. Plate pasta with chicken and sauce. Top with freshly grated Parmesan cheese.