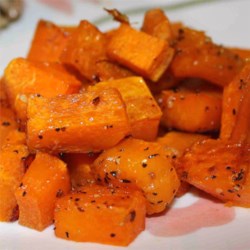 *From
allrecipes.com
.
INGREDIENTS
1 butternut squash, peeled, seeded, and cut into 1-inch cubes
2 Tbsp olive oil
2 cloves garlic
salt & pepper, to taste
DIRECTIONS
Toss all ingredients in a large bowl. Spread onto a baking sheet. Bake at 400 degrees for 25-30 minutes, until squash is tender and lightly browned.